What does this information mean?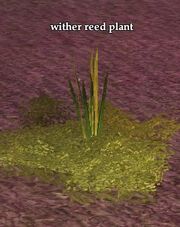 Gather 8 Wither Reed Plants from the swamp. They are found on grassy patches. Mostly near the northern end of the cove, none were found south of the combine wagons. These are track-able with "Track Harvestables" skill.
Return to Silnas at the ritual place ( -4, -632, -725 ) 

/waypoint -4, -632, -725

Throw plants into the fire.
Listen to the elder spirits.
Talk To Silnas .
At least

29g

 

85s

 

79c

One of the following, based on Class:
Ad blocker interference detected!
Wikia is a free-to-use site that makes money from advertising. We have a modified experience for viewers using ad blockers

Wikia is not accessible if you've made further modifications. Remove the custom ad blocker rule(s) and the page will load as expected.