You may upload a JPG or PNG image of the in-game examine window.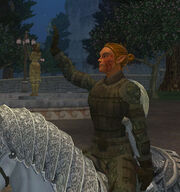 EverQuest II Item Information
The Queen's Masquerade

 
HANDCRAFTED
Queen's Masquerade
Charges
(5/5)
Casting
5 seconds
Duration
6 hours
Recast
15 seconds
Effects:

Applies Queen's Masquerade when Activated. Lasts for 6 hours.

Join the Queen's Masquerade



Obtain: Provisioner-crafted using a level 35 recipe from Provisioner Mastery volume 2.
\aITEM -894172354 -1445768715:The Queen's Masquerade\/a \aITEM -894172354 -1445768715:The Queen's Masquerade\/a
What does this information mean?
After you take a sip from that drink, you will do the Royal Wave (same as the Emote) and be transformed in a race affiliated to your city for 6 hours. As of LU42, the effect will fade when zoning or leaving a group.
Crafted Yeild

| | |
| --- | --- |
| crude | 0 |
| shaped | 0 |
| normal | 5 |
| pristine | 10 |
EQ2i credits this article at Census for the info in this article.
the last update on Census for this item was:
Tue, 24 Oct 2017 20:52:55 +0000
Ad blocker interference detected!
Wikia is a free-to-use site that makes money from advertising. We have a modified experience for viewers using ad blockers

Wikia is not accessible if you've made further modifications. Remove the custom ad blocker rule(s) and the page will load as expected.