You may upload a JPG or PNG image of the in-game examine window.
EverQuest II Item Information
\aITEM -90179110 -845036207:The Necropolis of Lxanvon Vol. I\/a \aITEM -90179110 -845036207:The Necropolis of Lxanvon Vol. I\/a
What does this information mean?
Book Text
The Necropolis of Lxanvon Vol. I (House Item)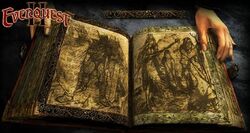 The Necropolis of Lxanvon and the Arrival of the Plague Bringer
In a Norrathian age long past, when dragons ruled the lands, seas, and skies, an ancient race did spring forth from the will of an unknown god. They were a cunning and powerful race of beings, able to survive in a harsh world ruled by the scaled children of Veeshan. The true name of this extinct civilization has been lost to the mists of time, the evidence of their existence buried and all but destroyed by the elements and the forces of change.
The eldest of dragons sometimes whisper tales of this lost race of beings who were the first to stand against and slay the great children of Veeshan. They speak of them to their young, as a human mother would tell ghost stories to her child. The dragons whispered tales of a great kingdom of wicked yet noble beings that built cities from the bones and sinew of the slain children of Veeshan. This is one such tale, passed down to the scribes of New Tanaan many years past by the dragon sorcerer Ulvaxazoviak.
Many ages ago, in a time that only the spirits of the ancestor dragons can recall, a long dead ancient race, The Xulous they are called in the tales of my kind, did build upon the lands that would become Tunaria a great necropolis to house their dead kings. The crypts of the necropolis were fashioned from preserved remains of slain dragons and it was called Lxanvon, which means in the tongue of the Xulous, 'Kings Rest'.
As the necropolis filled with the dead Xulous royalty, honored and revered in death as much as in life, a festering evil began to take over in the lowest bowels of the crypts of the kings. The Xulous, through their adoration and reverence of their rotting kings, their defilement of the dead children of Veeshan, and their dependence on the deaths of dragons for the expansion of their kingdoms did unknowingly bring a powerful and ancient evil to Norrath. As years passed, the evil presence in the bowels of Lxanvon grew stronger, and there, within the rotting corpses of those ancient kings, Bertoxxulous was born.
Credits