What does this information mean?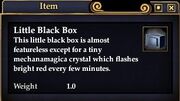 Speak with Finbert Lintzig, at Gnomeland Security Headquarters ( -584, 175, 959 ) 

/waypoint -584, 175, 959

Slay the clockwork reclaimer that spawns and attacks.
Speak with Finbert Lintzig.
Obtain 5 more Little Black Boxes, by slaying collection prognosticators near the Great Gear or Klak'Anon in Steamfont Mountains.
Return to Finbert Lintzig.
At least

2g

 

69s

 

57c

Experience
Ad blocker interference detected!
Wikia is a free-to-use site that makes money from advertising. We have a modified experience for viewers using ad blockers

Wikia is not accessible if you've made further modifications. Remove the custom ad blocker rule(s) and the page will load as expected.