In-Game Examine Window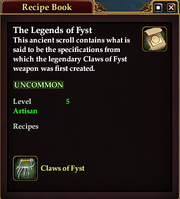 EverQuest II Recipe Book Information

The Legends of Fyst


This ancient scroll contains what is said to be the specifications from which the legendary Claws of Fyst weapon was first created.

UNCOMMON
Level
5
Artisan
Recipes

Obtain:
From Grand Master Sathaz in Sebilis.
Link:
What does this information mean?
This item is a conditional body drop. It will only drop if there is a Bruiser on the quest The Broken Fist on the group. Beware that it will be assigned via round-robin if loot settings are not set to "All Items" for lotto and NBG rolls.
Ingredients
Edit