In-Game Examine Window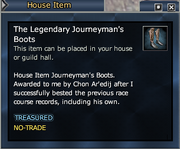 EverQuest II Item Information
Type: House Item
Subtype: Heritage Quest Trophy

The Legendary Journeyman's Boots

This item can be placed in your house or guild hall.

House Item Journeyman's Boots.
Awarded to me by Chon Ar'edij after I successfully bested the previous race course records, including his own.
 
TREASURED
NO-TRADE

Obtain: Examining Legendary Journeyman's Boots, while they are in your inventory and not equipped, gives you the option to turn them into this item.
What does this information mean?
Examining this item, while it is in your inventory, gives you the option to turn it into wearable armor boots called Legendary Journeyman's Boots.
While not immediately apparent, there are actually multiple versions of this item. That is how the game knows which version of the Legendary Journeyman's Boots to turn back into. There is no difference between graphics, or examine windows, only in the item link.
Ad blocker interference detected!
Wikia is a free-to-use site that makes money from advertising. We have a modified experience for viewers using ad blockers

Wikia is not accessible if you've made further modifications. Remove the custom ad blocker rule(s) and the page will load as expected.