EverQuest 2 Quest Information
Journal Category
Antonica
Journal Level
20 (Tier 3)
Journal Difficulty
Epic
Starting Zone
Antonica more
How to Start
Read the book "The Case of the Windstalker Rumbler" found by right clicking a bookcase located in Windstalker Village at ( -1822, -38, -542 ) 

/waypoint -1822, -38, -542

NOTE: A discussion page exists which may contain more information
What does this information mean?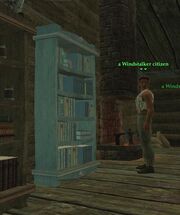 Kill The Windstalker Rumbler in the Antonica gnoll caves ( -802, -29, -64 ) /waypoint -802, -29, -64.
At least

29s

One of the following, based on Class:
Ad blocker interference detected!
Wikia is a free-to-use site that makes money from advertising. We have a modified experience for viewers using ad blockers

Wikia is not accessible if you've made further modifications. Remove the custom ad blocker rule(s) and the page will load as expected.