What does this information mean?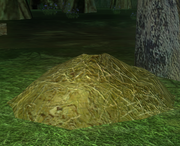 Speak to Assassin Vamir and ask for mole rats - he'll give you 5 Hawk Bait.
Look for mounds of dirt (see image), get close to them and use a mole rat from your inventory. A large mole rat will spawn on top of the dirt mound, click it to receive 1 A Large Mole Rat

To find more mole rat nests, run around the cliff walls of the western part of the zone - pretty much anywhere that's grassy. Only one mole rat nest is up at one time, and they despawn after you obtain a large mole rat from them - but it seems that the next one to spawn will always spawn near you rather than in a random location. If you're running EQ2Maps, all the mole rat burrow locations are marked.

Do this until you have 6 total large mole rats
Head to Falconer Hill. The hill is completely flat on top, you'll want to get up there. You'll get a message "The Great Hawk above appears to notice you".
Use the Large Mole Rats from your inventory - if you're in the right place the game will emote "The mole rat freezes, scared." Once you've placed 6 of them, The Great Hawk will come down.
With stats inflated the way they are these days, it should be possible for most classes to solo this thing, although mages might have a tough time. Doing the Feather collection and Shell collection quests for their stat-granting gear may help.