What does this information mean?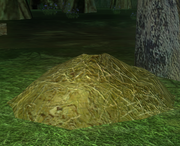 Speak to Assassin Vamir and ask for mole rats - he'll give you 5 Hawk Bait.
Look for mounds of dirt (see image), get close to them and use a mole rat from your inventory. A large mole rat will spawn on top of the dirt mound, click it to receive 1 A Large Mole Rat.

These mole rat nests spawn in the grassy areas at the bottom of the western cliffs of Cliffdiver Canyon, Wilderbear Vale and The Valley of Discipline. Only one mole rat nest is up at one time and they despawn after you obtain a large mole rat from them. However, it seems that the next one to spawn will always spawn near you rather than in a random location. If you're running EQ2Maps, all the mole rat burrow locations are marked.

Do this until you have 6 total large mole rats.

Since you need a total of six mole rats, return to Assassin Vamir once your initial five Hawk Baits have been depleted. You must wait until all five are used up before he will provide the dialogue option to supply you with more.

Head to Falconer Hill. You'll get a message in your in-game chat window: "The Great Hawk above appears to notice you".
Use the Large Mole Rats from your inventory - if you're in the right place the game will emote "The mole rat freezes, scared." Once you've placed 6 of them, The Great Hawk will come down.
With stats inflated the way they are these days, it should be possible for most classes to solo this thing, although mages might have a tough time. Doing the Feather collection and Shell collection quests for their stat-granting gear may help.