Ad blocker interference detected!
Wikia is a free-to-use site that makes money from advertising. We have a modified experience for viewers using ad blockers

Wikia is not accessible if you've made further modifications. Remove the custom ad blocker rule(s) and the page will load as expected.
In-Game Examine Window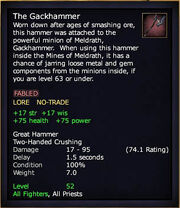 The Gackhammer
Worn down after ages of smashing ore, this hammer was attached to the powerful minion of Meldrath, Gackhammer.

When using this hammer inside the Mines of Meldrath, it has a chance of jarring loose metal and gem components from the minions inside, if you are level 63 or under


FABLED
LORE   NO-TRADE

+26 str

+12 agi

+26 wis




+90 health

+90 power



 
Great Hammer
Two-Handed Crushing
Damage
18 - 9                  (77.8 Rating)
Delay
1.5 seconds
Level
52 (Tier 6)
All Fighters, All Priests
 
Obtain: Exquisite Chest of Gackhammer
\aITEM 816379691 -35503442:The Gackhammer\/a \aITEM 816379691 -35503442:The Gackhammer\/a
What does this information mean?
reported: 10% chance of t6 gems and metals dropping from hammers effect