In-Game Examine Window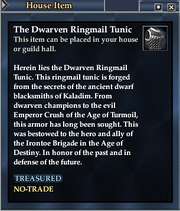 EverQuest II Item Information
Type: House Item
Subtype: Heritage Quest Trophy

The Dwarven Ringmail Tunic

This item can be placed in your house or guild hall.



Herein lies the Dwarven Ringmail Tunic. This ringmail tunic is forged from the secrets of the ancient dwarf blacksmiths of Kaladim. From dwarven champions to the evil Emperor Crush of the Age of Turmoil, this armor has long been sought. This was bestowed to the hero and ally of the Irontoe Brigade in the Age of Destiny. In honor of the past and in defence of the future.

 
TREASURED
NO-TRADE

Obtain: Complete the quest In Honor and Service and examine the reward while not equipped.
\aITEM 304373524 -295569802:The Dwarven Ringmail Tunic\/a \aITEM 304373524 -295569802:The Dwarven Ringmail Tunic\/a
What does this information mean?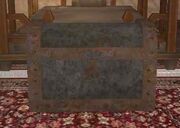 This house item can be converted to the wearable Dwarven Ringmail Tunic by examining it.
Contrary to popular belief, this furniture item is not a piece of armor on a stand, but rather a chest. As of LU36, this item's appearance no longer shares the same model as the t7 crafted Xegonite Chest. Instead, it uses the model of an exquisite treasure chest.
Ad blocker interference detected!
Wikia is a free-to-use site that makes money from advertising. We have a modified experience for viewers using ad blockers

Wikia is not accessible if you've made further modifications. Remove the custom ad blocker rule(s) and the page will load as expected.