What does this information mean?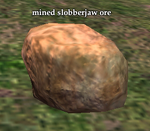 Harvest 8 samples of the ore being mined by the slobberjaw drudges near ( -407, 479, -265 ) 

/waypoint -407, 479, -265

, northeast of the Erudin Gardens.
Note: At ( -296, 469, -357 ) /waypoint -296, 469, -357, there is an ore sample by itself that respawns about every 20 seconds
Return to Jaswinda ( -154, 194, -361 ) /waypoint -154, 194, -361.
Another note: ALL ore respawns every 20 seconds. When coming down that ramp, kill guy on left, and camp the spot until you have 8. Only need to kill him twice, and no risks. Then use your Teleport Pebble, ride transport back for quest turn-in.
Ad blocker interference detected!
Wikia is a free-to-use site that makes money from advertising. We have a modified experience for viewers using ad blockers

Wikia is not accessible if you've made further modifications. Remove the custom ad blocker rule(s) and the page will load as expected.