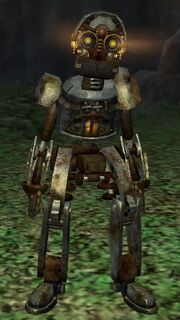 .
What does this information mean?
Clear all the aggro mobs in the Power Cell room. Mouse over each of the four power cells and write down the symbols you see. Head up to the top of the small tower in the room and activate the levers to match the codes to deactivate the shielding around all four cells.
Park your group under the tower away from the power cells. Park your tank between the group and the tunnel you entered the room from. Have one party member attack/nuke any deactivated power cell to destroy it (it has very low health). When a power cell is destroyed mobs spawn in the tunnel and head in. The flying clockworks head to the tower, the walking clockworks head over to the power cells. If your group is far enough away from the power cells, you can avoid aggro'ing the walking clockworks until you have dispatched the flying ones.
Spawn sequence :
1st Power Cell Destroyed: 1 Flying Clockworks, 1 Walking Clockwork
2nd Power Cell Destroyed: 2 Flying Clockworks, 1 Walking Clockworks
3rd Power Cell Destroyed: 2 Flying Clockworks, 2 Walking Clockworks
4th Power Cell Destroyed: 2 Flying Clockworks, 2 Walking Clockworks & The Crimson Vanquisher
Has an AoE DD, 1075-2508 at 0-10 meters, 1003-1505 at 10-15 metres, and 645-788 at 15-100 meters. The spell also stifles those affected for 20-30 seconds