What does this information mean?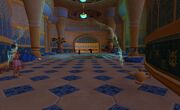 The instance allows no fighting to occur and offers a place for players to relax and enjoy the architecture, a few libations, and the companionship of other players.
A doorkeeper named Scheherazade stands at the entrance of the instance. Although you can only reach the lounge from the Moors of Ykesha, the doorkeeper offers transportation to Kelethin, South Qeynos, Dreg's Landing, Thundering Steppes dock, Drednever Crash Site, and Sinking Sands.
Ad blocker interference detected!
Wikia is a free-to-use site that makes money from advertising. We have a modified experience for viewers using ad blockers

Wikia is not accessible if you've made further modifications. Remove the custom ad blocker rule(s) and the page will load as expected.