What does this information mean?

1-6 players; no lockout timer; choose solo/heroic when entering.
Description
Edit
Medium-sized cave with numerous encounters of level 35-37.
Most mobs are nukers, and mostly come in sets of 4, making it a unique solo challenge.
Bosses (level 38) are very rare in the solo version; roughly 1 in 5 chance for each boss.
Entrance
Edit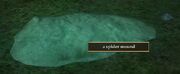 Located in the coastal spider area in northwest Enchanted Lands. Known locations are:

( 374, 30, -842 ) 

/waypoint 374, 30, -842

( 425, 25, -860 ) 

/waypoint 425, 25, -860

( 400, 25, -950 ) 

/waypoint 400, 25, -950

( 330, 25, -960 ) 

/waypoint 330, 25, -960

( 299, 28, -931 ) 

/waypoint 299, 28, -931

A very small bump in the ground that can be highlighted, with the message "A Spider Mound" or "A Cave-in". Sometimes only a tiny corner of the bump is poking out of the ground. Can be very hard to find.
The entrance moves to different parts of the spider area each time it is used.
The named spider seems to appear in the non-heroic instance only, and does not give AA. (I had the name appear on 1/31/13 in the heroic instance. - Cagedfury)
See Also
Edit
Ad blocker interference detected!
Wikia is a free-to-use site that makes money from advertising. We have a modified experience for viewers using ad blockers

Wikia is not accessible if you've made further modifications. Remove the custom ad blocker rule(s) and the page will load as expected.