Ad blocker interference detected!
Wikia is a free-to-use site that makes money from advertising. We have a modified experience for viewers using ad blockers

Wikia is not accessible if you've made further modifications. Remove the custom ad blocker rule(s) and the page will load as expected.
In-Game Examine Window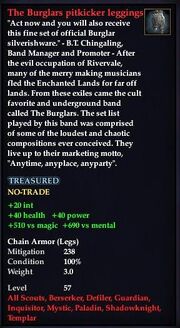 The Burglars pitkicker leggings
"Act now and you will also receive this fine set of official Burglar silverishware." - B.T. Chingaling, Band Manager and Promoter - After the evil occupation of Rivervale, many of the merry making musicians fled the Enchanted Lands for far off lands. From these exiles came the cult favorite and underground band called The Burglars. The set list played by this band was comprised of some of the loudest and chaotic compositions ever conceived. They live up to their marketing motto, "Anytime, anyplace, anyparty".

TREASURED
NO-TRADE

+20 int




+40 health

+40 power



 
Chain Armor (Legs)
Mitigation
238
Level
57 (Tier 6)
All Scouts, Berserker, Guardian, Paladin, Shadowknight, Inquisitor, Templar, Defiler, Mystic
 
Obtain: Reward from the quest "Planting and Plundering" in Kaladim.
What does this information mean?