What does this information mean?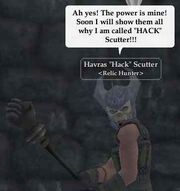 Retrieve the Blackwater Mask from the Freethinker Hideout ( -560, -20, 140 ) 

/waypoint -560, -20, 140

In Freethinker Hideout, use the barrel at ( 59, 0, 12 ) 

/waypoint 59, 0, 12

to destroy the breakable wall at ( 65, 4, 49 ) 

/waypoint 65, 4, 49

and open the hidden room

When the wall is blasted, one werewolf will pop at the door opening to the hallway with the breakable wall and three more appear further down the other corridors. They start pathing within a couple minutes and traverse the entire corridor system including the room hidden by the broken wall.

Click on the middle chest in the hidden room to retrieve the Blackwater Mask.

Return to Havras Scutter
Ad blocker interference detected!
Wikia is a free-to-use site that makes money from advertising. We have a modified experience for viewers using ad blockers

Wikia is not accessible if you've made further modifications. Remove the custom ad blocker rule(s) and the page will load as expected.