What does this information mean?
You must have learned the Gnollish language to understand Sarchel.
This quest scales to player level from levels 20 to 50.
This quest is one of several that you can do to complete A Darkened Shard, Part 2.
If you die in the instance, the revive point is back at the entrance, but if you didn't place a plank across the first gap, and don't have fast enough run speed, you may find it difficult if not impossible to jump the first gap. Try using the horn that sticks out from the side of the cliff if you need to jump.
It pays to have handcrafted Spring-Loaded Gnomish Stilts with you for crossing the gaps. Makes the planks unnecessary.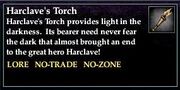 Experience
Counts toward Splitpaw Gnoll "Trust".
Related Quests
Edit
You need three "Trust" points with the Splitpaw Gnolls to advance to the the final azure shard quest. Completing this quest will give you one point.
Ad blocker interference detected!
Wikia is a free-to-use site that makes money from advertising. We have a modified experience for viewers using ad blockers

Wikia is not accessible if you've made further modifications. Remove the custom ad blocker rule(s) and the page will load as expected.