You may upload a JPG or PNG image of the in-game examine window.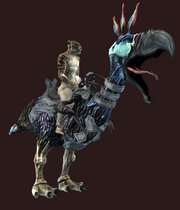 Terrorbird
A 30th level adventurer or tradeskiller is required to ride this remarkable mount. Though nearly wingless and without the ability to fly, Terrorbirds have been known to leap for very long distances!

TREASURED
HEIRLOOM  NO-VALUE
Call Terrorbird
 
Charges
Unlimited
Casting
2.0 seconds
Duration
Until Cancelled
Recast
0.0 seconds
Slot
Charm (Optional)
Level
30 (Tier 4)
 
Effects:


Applies Call Terrorbird when Activated.

Summons a mount to ride

Increases your ground speed by 60%
Increases your air speed by 200%
Increases Focus, Ministration, Crushing, Ranged, Disruption, Piercing, Aggression, Subjugation, Ordination and Slashing of caster by 5.0
Obtain:
950

\aITEM 1991103530 -726442611:Terrorbird\/a \aITEM 1991103530 -726442611:Terrorbird\/a
What does this information mean?
Ad blocker interference detected!
Wikia is a free-to-use site that makes money from advertising. We have a modified experience for viewers using ad blockers

Wikia is not accessible if you've made further modifications. Remove the custom ad blocker rule(s) and the page will load as expected.