For other articles with related titles, see Tarton's Wheel.

In-Game Examine Window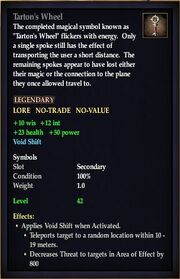 Tarton's Wheel
The completed magical symbol known as "Tarton's Wheel" flickers with energy. Only a single spoke still has the effect of transporting the user a short distance. The remaining spokes appear to have lost either their magic or connection to the plane they once allowed to travel to.

LEGENDARY
LORE  NO-TRADE

+10 wis

+12 int



Void Shift
 

Symbols

Type
Symbols
Slot
Secondary
Level
42 (Tier 5)
All Mages, All Priests, Paladin, Shadowknight
 
Effects:


Applies Void Shift when Activated.

Teleports target to a random location within 10 - 19 meters.
Decreases Threat to targets in Area of Effect by 800
The casting time of Void Shift is 2.0 seconds and the reuse time of the spell is 2 minutes
Obtain: Reward from the quest "Tarton's Wheel."
\aITEM 737396583 -1091753706:Tarton's Wheel\/a \aITEM 737396583 -1091753706:Tarton's Wheel\/a
What does this information mean?
Ad blocker interference detected!
Wikia is a free-to-use site that makes money from advertising. We have a modified experience for viewers using ad blockers

Wikia is not accessible if you've made further modifications. Remove the custom ad blocker rule(s) and the page will load as expected.