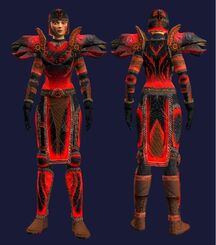 Armor Set: T9 Leather Healer - Earthen Shard
---
(NOTE: Only the Forearms and Gloves form a set bonus)
(2) Applies: Earth Meld

15% ability Recovery Speed, +300 power

On a healing spell cast this spell may cast Sacred Territory on the group. Lasts for 30.0 seconds. Triggers about 2.0 times per minute. Cannot be modified except by direct means.

Wards group members (AE) against 9,313 points of all damage
This armor may be worn only by: Fury, Warden
Drop Locations
Edit
This armor is dropped as follows:
Needed items
Edit
When you have all items needed for each armor piece, go to the Paineel in The Sundered Frontier.
Both the Mold and the Pattern are bought from Krin'Jilna at (1,682, -282 ,3 ,447)
Ad blocker interference detected!
Wikia is a free-to-use site that makes money from advertising. We have a modified experience for viewers using ad blockers

Wikia is not accessible if you've made further modifications. Remove the custom ad blocker rule(s) and the page will load as expected.