In-Game Examine Window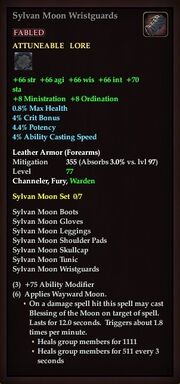 What does this information mean?
Armor Set: Sylvan Moon
---
(3) +75 Ability Modifier
(6) Applies Wayward Moon

On a damage spell hit this spell may cast Blessing of the Moon on target of spell. Lasts for 12.0 seconds. Triggers about 1.8 times per minute.

Heals group members for 1111
Heals group members for 511 every 3 seconds
Ad blocker interference detected!
Wikia is a free-to-use site that makes money from advertising. We have a modified experience for viewers using ad blockers

Wikia is not accessible if you've made further modifications. Remove the custom ad blocker rule(s) and the page will load as expected.