Ad blocker interference detected!
Wikia is a free-to-use site that makes money from advertising. We have a modified experience for viewers using ad blockers

Wikia is not accessible if you've made further modifications. Remove the custom ad blocker rule(s) and the page will load as expected.
In-Game Examine Window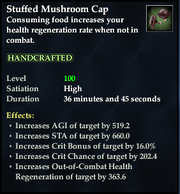 EverQuest II Item Information
Stuffed Mushroom Cap

Consuming food increases your health regeneration rate when not in combat.
 
 
HANDCRAFTED
Level
100 (Tier 11)
Satiation
High
Duration
36 minutes and 45 seconds
Effects:

Increases AGI of target by 519.2
Increases STA of target by 660.0
Increases Crit Bonus of target by 16.0%
Increases Crit Chance of target by 202.4
Increases Out-of-Combat Power Regeneration by 363.6
Obtain: Provisioner-crafted using a level 100 recipe from Deepforge Provisioner Essentials.
What does this information mean?