Ad blocker interference detected!
Wikia is a free-to-use site that makes money from advertising. We have a modified experience for viewers using ad blockers

Wikia is not accessible if you've made further modifications. Remove the custom ad blocker rule(s) and the page will load as expected.
In-Game Examine Window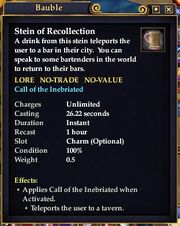 Stein of Recollection
A drink from this stein teleports the user to a bar in their city. You can speak to some bartenders in the world to return to their bars.

FABLED
LORE   NO-TRADE   NO-VALUE   ORNATE
Call of the Inebriated
 
Charges
Unlimited
Casting
30.0 seconds
Duration
Instant
Recast
1 hour
Slot
Charm (Optional)
Level
1 (Tier 1)
 
Effects:


Applies Call of the Inebriated when activated.

Teleports the user to a tavern.
Obtain:This item is a EQII Legends of Norrath Loot Card /claim reward from the card Stein of Recollection.
\aITEM 1465474154 -1423130996:Stein of Recollection\/a \aITEM 1465474154 -1423130996:Stein of Recollection\/a
What does this information mean?
This item works similar to the glowing azure shard from the Splitpaw Saga. Some bartenders around the world can reset your bind point with this item to their bar. Hailing them will reveal if they can do so.
Bartenders confirmed to work with this item include the following:
Kayben Eatny in South Qeynos ( 580, -8, 130 ) 

/waypoint 580, -8, 130

Birney Abbot in Qeynos Harbor ( 805, -23, 54 ) 

/waypoint 805, -23, 54

Eurkon Al'ouz in Gorowyn, in Timorous Deep ( 2599, 86, 1325 ) 

/waypoint 2599, 86, 1325

Turluk Qukila in Teren's Grasp, in Kylong Plains ( 2202, 524, -97 ) 

/waypoint 2202, 524, -97

Rasputin Zacani in the Village of Somborn, in the Loping Plains, ( -317, 12, -37 ) 

/waypoint -317, 12, -37

Lentak in Grobb, in the Moors of Ykesha, at ( -304, -77, -839 ) 

/waypoint -304, -77, -839

Ranik Calman in East Freeport, loc -232.14, -55.18, 8.70
Remell T'Gyreius in Neriak, loc 168.07, 29.85, 211.35. He's in the House D'Morte bar.
Aidan in Maldura, loc -53.60 -8.48 5.47, in the Mushroom Bar and Grill