Ad blocker interference detected!
Wikia is a free-to-use site that makes money from advertising. We have a modified experience for viewers using ad blockers

Wikia is not accessible if you've made further modifications. Remove the custom ad blocker rule(s) and the page will load as expected.
In-Game Examine Window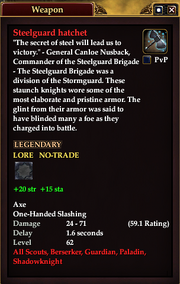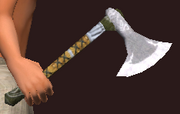 Steelguard hatchet
"The secret of steel will lead us to victory." - General Canloe Nusback, Commander of the Steelguard Brigade - The Steelguard Brigade was a division of the Stormguard. These staunch knights wore some of the most elaborate and pristine armor. The glint from their armor was said to have blinded many a foe as they charged into battle.


LEGENDARY
LORE   NO-TRADE
 

+20 str

+15 sta



 
Axe
One-Handed Slashing
Damage
24 - 71                  (59.1 Rating)
Delay
1.6 seconds
Level
62 (Tier 7)
All Scouts, Berserker, Guardian, Paladin, Shadowknight
 
Obtain: Reward from the quest "The Kragbak Strongbox" in Kaladim.
\aITEM -1329777509 1712941416:Steelguard hatchet\/a \aITEM -1329777509 1712941416:Steelguard hatchet\/a
What does this information mean?