The Item, Location, Quest, Mob or NPC referred to by this page has been removed from EverQuest II.
This article is being retained for historical reasons
Part of the Return of the Gods Timeline
In-Game Examine Window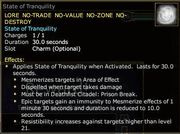 State of Tranquility

LORE  NO-TRADE  NO-VALUE  NO-ZONE  NO-DESTROY
State of Tranquility
 
Charges
1
Slot
Charm (Optional)
 
Effects:


Applies State of Tranquility when Activated. Lasts for 30.0 seconds.

Mesmerizes targets in Area of Effect
Dispelled when target takes damage
Must be in Deathfist Citadel: Prison Break.
Epic targets gain an immmunity to Mesmerize effects of 1 minute 30 seconds and duration is reduced to 10.0 seconds
Resistibility increases againts targets higher than level 21.
Obtain: Quest: Peaceful Prison Break
What does this information mean?