You may upload a JPG or PNG image of the in-game examine window.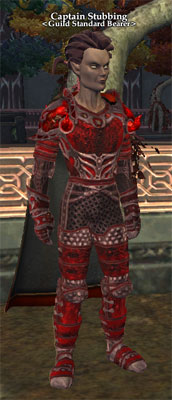 EverQuest II Item Information
What does this information mean?
You may upload a JPG or PNG image of the in-game examine window.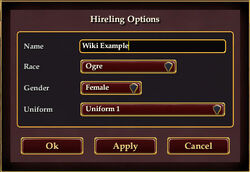 See the Guild Hall Amenities page for a list of all amenities.
About the Standard Bearer Hireling
Edit
A Standard Bearer is a NPC.
This NPC will sell guild members a standard (a flag) that can be placed in a zone to provide a buff.
Flags are heirloom and with 1 charge.
Each standard provides various beneficial buffs, resists and spell effects that scales with the level of the player.
You can place this standard in any zone or instance, but only one standard can be active in the same instance at the same time.
Multiple standards can be active at once (benefitng different guild members) if they are in different instances.
Anyone in that instance will be affected by the buffs given by this standard.
Anyone can currently destroy a placed standard without any questions asked.
Hireling Options
Edit
R click and choose Customize from the list. You can set the following"
Name -Like character names, you can not choose a name with a copyright (e.g. Luke Skywalker) or one that is obscene.
Race - choose any of the playable races for the hireling
Sex - choose to make the hireling female or male
Uniform - you must have at least one Uniform Mannequin amenity to set a uniform.