In-Game Examine Window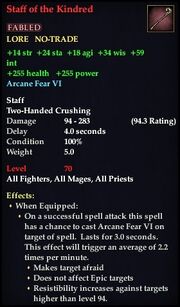 Staff of the Kindred

FABLED
LORE  NO-TRADE

+14 str

+18 agi

+34 wis

+59 int

+24 sta




+255 health

+255 power



Arcane Fear VI
 
Staff
Two-Handed Crushing
Damage
101-302                  (100.7 Rating)
Delay
4.0 seconds
Level
70 (Tier 8)
All Fighters, All Mages, All Priests
 
Effects:


When Equipped:

On a successful spell attack this spell has a chance to cast Arcane Fear VI on target of spell. Lasts for 3.0 seconds. This effect will trigger an average of 2.2 times per minute.

Makes target afraid
Does not affect Epic targets
Resistibility increases against targets higher than level 94.
Obtain: From D'Lizta Cheroon in Mistmoore's Inner Sanctum.
\aITEM -345941097 -722420723:Staff of the Kindred\/a \aITEM -345941097 -722420723:Staff of the Kindred\/a
What does this information mean?
Ad blocker interference detected!
Wikia is a free-to-use site that makes money from advertising. We have a modified experience for viewers using ad blockers

Wikia is not accessible if you've made further modifications. Remove the custom ad blocker rule(s) and the page will load as expected.