You may upload a JPG or PNG image of the in-game examine window.
EverQuest II Item Information
Type: Quest Item

Staff of Phar

This staff is made of metal and is topped with a visage of a powerful bird of prey. The staff is set ablaze with a magic fiery aura.
 
LORE  NO-TRADE  NO-VALUE  NO-DESTROY

Obtain: Examine the flaming staff titled Staff of Phar in random locations within the Trade Court area of The Living Tombs during the quest, Delving into Darkness.
\aITEM 403482285 -711073923:Staff of Phar\/a \aITEM 403482285 -711073923:Staff of Phar\/a
What does this information mean?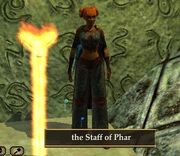 Reported Locations
Edit
Ad blocker interference detected!
Wikia is a free-to-use site that makes money from advertising. We have a modified experience for viewers using ad blockers

Wikia is not accessible if you've made further modifications. Remove the custom ad blocker rule(s) and the page will load as expected.