In-Game Examine Window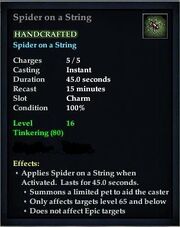 EverQuest II Item Information
Spider on a String

 
HANDCRAFTED
Spider on a String
Charges
(5/5)
Duration
45.0 seconds
Recast
15 minutes
Level
10 (Tier 2)
Effects:

Applies Spider on a String when Activated. Lasts for 45.0 seconds.

Summons a limited pet to aid the caster



Obtain: Tinkerer-crafted using a 80 minimum skill recipe from Apprentice Blueprints 0.008
\aITEM 91632576 1967690950:Spider on a String\/a \aITEM 91632576 1967690950:Spider on a String\/a
What does this information mean?
recast: 15 minutes
the spider will attack your opponent in melee
the spider hit for 21 to 29 points of damage in the test fights
the spider does not appear to have a sizeable amount of hit points and is best kept in the back of an opponent
the spider appears to be a level 16 creature - it will reliably hit opponents around its level, but miss a level 20 opponent about half the time
the spider is actually visible as a house cat-sized clockwork spider
the spider disappears when there is no opponent left to attack
EQ2i credits this article at Census for the info in this article.
the last update on Census for this item was:
Tue, 24 Oct 2017 20:45:06 +0000
Ad blocker interference detected!
Wikia is a free-to-use site that makes money from advertising. We have a modified experience for viewers using ad blockers

Wikia is not accessible if you've made further modifications. Remove the custom ad blocker rule(s) and the page will load as expected.