Ad blocker interference detected!
Wikia is a free-to-use site that makes money from advertising. We have a modified experience for viewers using ad blockers

Wikia is not accessible if you've made further modifications. Remove the custom ad blocker rule(s) and the page will load as expected.
In-Game Examine Window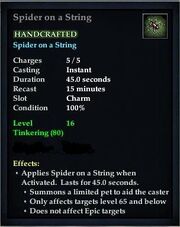 Spider on a String

HANDCRAFTED
Spider on a String
 
Charges
5/5
Casting
Instant
Duration
45.0 seconds
Recast
15 minutes
Slot
Charm (Optional)
Level
16 (Tier 2)
Tinkering (80)
 
Effects:


Applies Spider on a String when Activated. Lasts for 45.0 seconds.

Summons a limited pet to aid the caster
Obtain: Tinkerer-crafted using a 80 skill recipe from Apprentice Blueprints 0.008
What does this information mean?
recast: 15 minutes
the spider will attack your opponent in melee
the spider hit for 21 to 29 points of damage in the test fights
the spider does not appear to have a sizeable amount of hit points and is best kept in the back of an opponent
the spider appears to be a level 16 creature - it will reliably hit opponents around its level, but miss a level 20 opponent about half the time
the spider is actually visible as a house cat-sized clockwork spider
the spider disappears when there is no opponent left to attack