In-Game Examine Window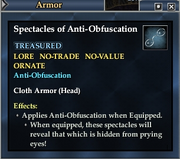 Spectacles of Anti-Obfuscation

TREASURED
LORE  NO-TRADE  NO-VALUE  ORNATE
Anti-Obfuscation
 
Cloth Armor (Head)
 
Effects:


Applies Anti-Obfuscation when Equipped.

When equipped, these spectacles will reveal that which is hidden from prying eyes!
Obtain: Click on a box at ( 1662, -266, 3175 ) 

/waypoint 1661.83, -265.73, 3174.68

in the Hall of Necromancy in Paineel
What does this information mean?
Ad blocker interference detected!
Wikia is a free-to-use site that makes money from advertising. We have a modified experience for viewers using ad blockers

Wikia is not accessible if you've made further modifications. Remove the custom ad blocker rule(s) and the page will load as expected.