What does this information mean?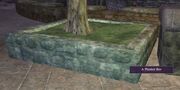 Plant a green wisp plant in each of the eight planters around the village. The planters are all large squares with trees growing in them. Some of the plants may attack you!
Return to Vindain Greenfaith.
Greenwisp (Treasured, no trade, no value, may be placed in your home.) 1 silver, 6 copper
Ad blocker interference detected!
Wikia is a free-to-use site that makes money from advertising. We have a modified experience for viewers using ad blockers

Wikia is not accessible if you've made further modifications. Remove the custom ad blocker rule(s) and the page will load as expected.