The Item, Location, Quest, Mob or NPC referred to by this page has been removed from EverQuest II.
This article is being retained for historical reasons
What does this information mean?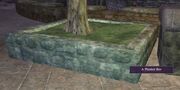 Plant a green wisp plant in each of the eight planters around the village. The planters are all large squares with trees growing in them. Some of the plants may attack you!
Return to Vindain Greenfaith.
Greenwisp (Treasured, no trade, no value, may be placed in your home.) 1 silver, 6 copper