Ad blocker interference detected!
Wikia is a free-to-use site that makes money from advertising. We have a modified experience for viewers using ad blockers

Wikia is not accessible if you've made further modifications. Remove the custom ad blocker rule(s) and the page will load as expected.
In-Game Examine Window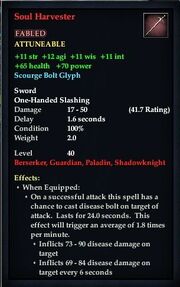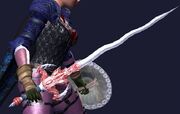 Soul Harvester

FABLED
ATTUNEABLE

+11 str

+12 agi

+11 wis

+11 int




+65 health

+70 power



Scourge Bolt Glyph
 
Sword
One-Handed Slashing
Damage
17 - 50                  (41.7 Rating)
Delay
1.6 seconds
Level
40 (Tier 5)
Berserker, Guardian, Paladin, Shadowknight
 
Effects:


When Equipped:

On a successful attack this spell has a chance to cast disease bolt on target of attack. Lasts for 24.0 seconds. This effect will trigger an average of 1.8 times per minute.

Inflicts 64-78 disease damage n target
Inflicts 60-74 disease damage on target every 6 seconds
Obtain: From the Exquisite Chest of any Tier 6 Epic Named Monster.
What does this information mean?