In-Game Examine Window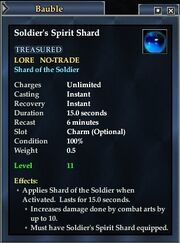 Soldier's Spirit Shard

TREASURED
LORE,   NO-TRADE
Shard of the Soldier
 
Charges
Unlimited
Duration
15.0
Recast
6 minutes
Slot
Charm
Level
11 (Tier 2)
 
Effects:


Applied Shard of the Soldier when Activated. Lasts for 15 seconds.

Increases damage done by combat arts by up to 10.
Must have Soldier's Shard Equipped.
Obtain: Reward from the quest "A Stronger Essence" in Timorous Deep.
What does this information mean?