In-Game Examine Window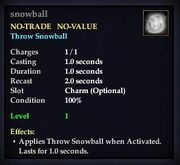 Snowball

NO-TRADE  NO-VALUE
Throw Snowball
 
Charges
1/1
Slot
Charm (Optional)
Level
1 (Tier 1)
 
Effects:


Applies Throw Snowball when Activated. Lasts for 1.0 seconds.
Obtain: Receive stacks of 20 when you click on one of the tubs of snowballs in the cities during Frostfell.
What does this information mean?
Casting: 1.0 seconds
Duration: 1.0 seconds
Recast: 2.0 seconds
Has an animation of actually throwing a snowball, frequently hitting the other person in the head and causing your character to issue the emote "Sorry!". Snowballs are only available during the Frostfell season, but many players save them throughout the year to surprise people with.
The snowball harvest nodes are approximately on a 1 one minute timer.
Ad blocker interference detected!
Wikia is a free-to-use site that makes money from advertising. We have a modified experience for viewers using ad blockers

Wikia is not accessible if you've made further modifications. Remove the custom ad blocker rule(s) and the page will load as expected.