Ad blocker interference detected!
Wikia is a free-to-use site that makes money from advertising. We have a modified experience for viewers using ad blockers

Wikia is not accessible if you've made further modifications. Remove the custom ad blocker rule(s) and the page will load as expected.
What does this information mean?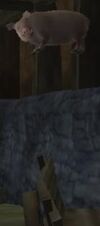 This quest is part of the annual Brew Day celebration and it can be repeated every two hours.
Snoogle wants you to obtain four items from the lands of Norrath, and gives you several clues about how to find them, as well as Snoogle's Special Flask to aid you.
Gather the following in any order (note that your character must be more than inebriated to harvest these items -- examine Snoogle's Special Flask to get drunk):
Return to Snoogle at Bar of Brell and convince him to take all four items.
The progression for intoxication is Tipsy, Inebriated, Drunk, Very Drunk. You may have to be Very Drunk to see the objects; luckily, with the brew you are given, one sip is all it takes.
The Plushies were added as a reward starting in 2009.
see Getting Sober for hints how to sober up
| | |
| --- | --- |
| | This article refers to events, personae and activities only present in-game during the annual Brew Day celebration, which comes to Norrath each year the week of March 17th. |