In-Game Examine Window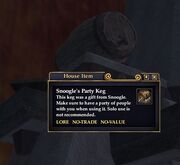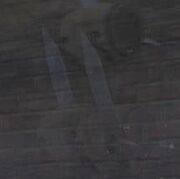 EverQuest II Item Information
\aITEM 1827047564 1779056767:[Snoogle's Party Keg]\/a \aITEM 1827047564 1779056767:[Snoogle's Party Keg]\/a
What does this information mean?
This is one of many options from the quest, Snoogle's Presentation, which can be repeated once every two hours during the event.
When grouped with people in your home, clicking on the "Tap Keg" choice will make your entire party instantly Very Drunk. Just after tapping the keg, all group members' vision will be impaired and a very blurry winged keg will fly out of the Party Keg and disappear off screen.
To cancel the drunk effect you can: duel with a friend and die on purpose, teleport or zone (usually fixes it), use Wake-up Juice or Hair of the Dog, or go out and let a monster kill you and rez.
| | |
| --- | --- |
| | This article refers to events, personae and activities only present in-game during the annual Brew Day celebration, which comes to Norrath each year the week of March 17th. |
Ad blocker interference detected!
Wikia is a free-to-use site that makes money from advertising. We have a modified experience for viewers using ad blockers

Wikia is not accessible if you've made further modifications. Remove the custom ad blocker rule(s) and the page will load as expected.