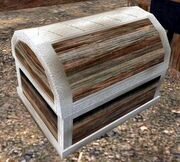 .
What does this information mean?
You may upload a JPG or PNG image of the in-game picture of this mob

Mimic is the old AD&D name for these deceptive creatures. They pretend to be a chest of treasure, appearing indistinguishable from the real thing, until the unwary adventurer attempts to open them. Then, it's supper time! (No, not yours...)
Ad blocker interference detected!
Wikia is a free-to-use site that makes money from advertising. We have a modified experience for viewers using ad blockers

Wikia is not accessible if you've made further modifications. Remove the custom ad blocker rule(s) and the page will load as expected.