What does this information mean?
This quest is repeatable - (no 18h timer)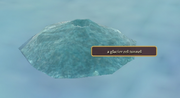 Kill four glacier eels

Click on the eel burrows found on the ice sheets. Roughly 1 out of 4 burrows will produce an eel after it has been clicked on.
The eels are aggro, but it is possible to get out of aggro range before they spawn.

Return to Runt
Ad blocker interference detected!
Wikia is a free-to-use site that makes money from advertising. We have a modified experience for viewers using ad blockers

Wikia is not accessible if you've made further modifications. Remove the custom ad blocker rule(s) and the page will load as expected.