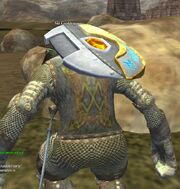 Found in the Commonlands at the Ruins of Val'marr, he begins the Swords of Destiny Timeline. Upon his back you can see he carries the Qeynos Guard, the shield version of the Claymore Questline final reward.
Related Quests
Edit
Ad blocker interference detected!
Wikia is a free-to-use site that makes money from advertising. We have a modified experience for viewers using ad blockers

Wikia is not accessible if you've made further modifications. Remove the custom ad blocker rule(s) and the page will load as expected.