In-Game Examine Window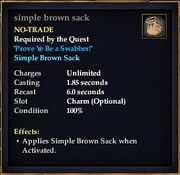 Simple brown sack

NO-TRADE
Required by the Quest
'Prove Ye Be a Swabber!'
Simple Brown Sack
 
Charges
Unlimited
Casting
1.85 seconds
Recast
6.0 seconds
Slot
Charm (Optional)
 
Effects:


Applies Simple Brown Sack when Activated.
Obtain: From a pile of sacks inside the arena during the quest Prove Ye Be a Swabber!
What does this information mean?