In-Game Examine Window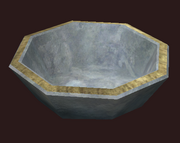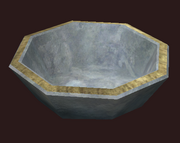 EverQuest II Item Information
What does this information mean?
This item requires materials from Bountiful Brewday gardens, which can only be seen during Brew Day.
If you have the materials, you can craft it all year though. If you run low on materials, check the broker.
If successfully crafted this recipe produces 3 of at once.
There are numerous tableware items with a similar theme from many Brewday recipes. For example, Silvery Goblet and Silvery Serving Platter have the same finish.
| | |
| --- | --- |
| | This article refers to events, personae and activities only present in-game during the annual Brew Day celebration, which comes to Norrath each year the week of March 17th. |
Fuel:
Harvests:
1 Iron cluster

The following supplies can only be harvested during the Brew Day world event: