What does this information mean?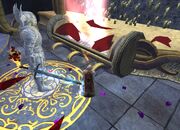 Speak with Gwestanna and Arawen.
Return to Lanielle.
Gain access to The Chapel of Love. ( -3, 38, -257 ) 

/waypoint -3, 38, -257

This can be done by defeating the following named mobs in the zone

Confront Mithaniel Marr.

Defeat Mithaniel in battle, during which he turns into an unattackable NPC.
Wait until Mithaniel finishes his dialogue and crushes his sister's coffin. The quest will automatically complete.

You can now gain the quest Johnny Pomegranate Seed from Lanielle.
Suffix Title: Love's Champion
Achievement: Love's Avenger