In-Game Examine Window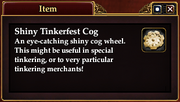 EverQuest II Item Information
\aITEM 1817112378 34586157:Shiny Tinkerfest Cog\/a \aITEM 1817112378 34586157:Shiny Tinkerfest Cog\/a
What does this information mean?
These are the currency of Tinkerfest. The cogs are small shiny ground spawns that can be found around any Tinkerfest celebration location, as well as in Gnomeland Security Headquarters. The cogs have a fast respawn time, but if you feel that you're being trampled in the rush of party-loving gnomes, check out one of the alternate locations.
| | |
| --- | --- |
| | This article refers to events, personae and activities only accessable in-game during the annual Tinkerfest festivities that occur roughly from the end of July to early August. |
Ad blocker interference detected!
Wikia is a free-to-use site that makes money from advertising. We have a modified experience for viewers using ad blockers

Wikia is not accessible if you've made further modifications. Remove the custom ad blocker rule(s) and the page will load as expected.