EverQuest II Alternate Advancement Information
AAs » Druid AAs
Shapeshift
Rank (*/10)

Starter

1 point

Requires Adventure Level 10

 
Grants the Druid the ability to shapechange into one of three animal forms they can select from in their abilities. This ability grants 4 stamina and wisdom passively per rank.
 
Passive Spell
 
Effects:

see below
Animal Forms
Edit
Shapeshift: Tiger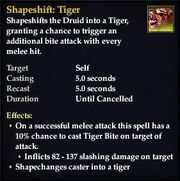 Shapeshifts the Druid into a Tiger, granting a chance to trigger an additional bite attack with every melee hit.
On a successful melee attack this spell has a 10% chance to cast Tiger Bite on target of attack.

Inflicts x-y slashing damage on target
Shapeshift: Treant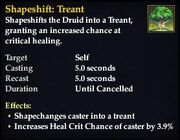 Shapeshifts the Druid into a Treant, granting an increased amount to all heals.
Increases base healing by z%.
Shapeshift: Winter Wolf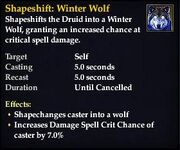 Shapeshifts the Druid into a Winter Wolf, granting an increased chance at critical hits.
Increases Crit Chance of caster by w
Ad blocker interference detected!
Wikia is a free-to-use site that makes money from advertising. We have a modified experience for viewers using ad blockers

Wikia is not accessible if you've made further modifications. Remove the custom ad blocker rule(s) and the page will load as expected.