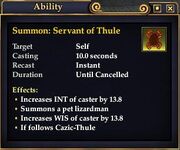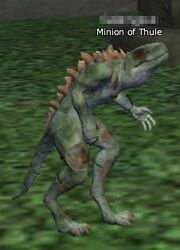 EQ2 Deity Pet Information
Deity
Cazic-Thule
Target
Self
Casting
10.0 seconds
Recast
0 seconds
Duration
Until Cancelled
Effects:

Increases WIS, STA, INT, AGI, and STR of caster by xx.x

Obtain:
Forsaken, #3 of the Cazic-Thule Timeline
Quotes
This pet speaks Thulian; you must complete the quest "Fearful Words" to understand it.
"More brains for the Fear God!"
"Fear is contagious. When the brave falter, fear spreads quickly!"
"Fear is in the heart of all. In all resides the will of Thule."
"We regret that you have but one life to give for Cazic Thule!"
"Gurgling buttertooth!"