Ad blocker interference detected!
Wikia is a free-to-use site that makes money from advertising. We have a modified experience for viewers using ad blockers

Wikia is not accessible if you've made further modifications. Remove the custom ad blocker rule(s) and the page will load as expected.
In-Game Examine Window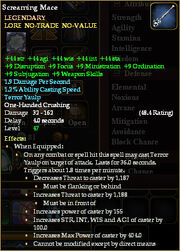 Screaming Mace

LEGENDARY
LORE   NO-TRADE

+24 str

+24 sta



12.3 Damage Per Second
1.1%  Potency

Terror Yaulp
 
Great Hammer
One-Handed Crushing
Damage
29 - 165                  (48.5 Rating)
Delay
4.0 seconds
Level
42 (Tier 5)
All Fighters, All Priests
 
Effects:


When Equipped:

On a combat hit this spell may cast Terror Yaulp on target of attack. Lasts for 36.0 seconds. Triggers about 1.8 times per minute.

Decreases Threat to caster by 258
Increases power of caster by 191
Increases STR of caster by 36.6
Increases Max Power of caster by 239.8
Cannot be modified except by direct means
Obtain: Reward from the heritage quest, The Screaming Mace.
\aITEM -751526944 798155464:Screaming Mace\/a \aITEM -751526944 798155464:Screaming Mace\/a
What does this information mean?
House Item
Edit
Examining this equipment, while it is in your inventory and not equipped, gives you the option to turn it into a house item called, The Legendary Screaming Mace.