The Item, Location, Quest, Mob or NPC referred to by this page has been removed from EverQuest II.
This article is being retained for historical reasons
Adornments like this got replaced with LU55, you may find them ingame still but you can't craft em anymore
In-Game Examine Window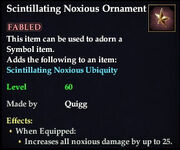 EverQuest II Adornment Information
Scintillating Noxious Ornament
FABLED
This item can be used to adorn a Symbol item.
Adds the following to an item:
Scintillating Noxious Ubiquity

 
Level
60
 
Effects:

When Equipped:

Increases all noxious damage by up to 25.
Obtain: Crafted by a Carpenter using a recipe from Enigma of the Carpenter Volume 7.
GameLink

: