Ad blocker interference detected!
Wikia is a free-to-use site that makes money from advertising. We have a modified experience for viewers using ad blockers

Wikia is not accessible if you've made further modifications. Remove the custom ad blocker rule(s) and the page will load as expected.
In-Game Examine Window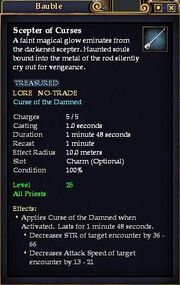 Scepter of Curses
A faint magical glow eminates from the darkened scepter. Haunted souls bound into the metal of the rod silently cry out for vengeance.

TREASURED
LORE      NO-TRADE
Curse of the Damned
 
Charges
5/5
Casting
1.0 seconds
Duration
1 minute 48 seconds
Recast
1 minute
Effect Radius
10.0 meters
Slot
Charm (Optional)
Level
25 (Tier 3)
All Priests
 
Effects:


Applies Curse of the Damned when Ativated. Lasts for 1 minute 48 seconds.

Decreases STR of target encounter by 36 - 66
Decreases Attack Speed of target encounter by 13 - 21
Obtain: Reward from the quest "Betrayal of Brotherhood" in Nektulos Forest.
\aITEM 216292883 595064109:Scepter of Curses\/a \aITEM 216292883 595064109:Scepter of Curses\/a
What does this information mean?