Ad blocker interference detected!
Wikia is a free-to-use site that makes money from advertising. We have a modified experience for viewers using ad blockers

Wikia is not accessible if you've made further modifications. Remove the custom ad blocker rule(s) and the page will load as expected.
The Item, Location, Quest, Mob or NPC referred to by this page has been removed from EverQuest II.
This article is being retained for historical reasons
EverQuest 2 Quest Information
Journal Category
World Event  (AA)
Journal Level
Scales with player level
Journal Difficulty
Solo
Starting Zone
see Starting the Quest below
How to Start
see Starting the Quest
What does this information mean?

Apparently, pieces of the shattered spires are still scattered across the lands, and in order to repair their damage, these pieces must be collected. I should be able to find the shards within any zone that contains one of the Ulteran Spires.
Starting the Quest
Edit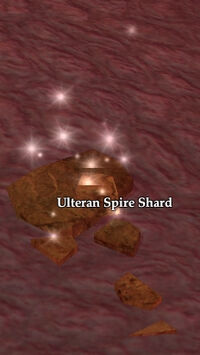 Collect 6 broken Ulteran Spire Shards.
Return to one of the four NPCs for your reward.