What does this information mean?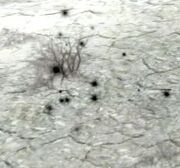 Place 6 gems where Draazak rests (black sparkling effect on the ground). Caution: you may be jumped by a group of 3 mobs, An Orafic soulscreecher, A Skirth soulstalker, and a Tirun soulcrusher.
Collect 6 gems.
Return to Leizoth.
Ad blocker interference detected!
Wikia is a free-to-use site that makes money from advertising. We have a modified experience for viewers using ad blockers

Wikia is not accessible if you've made further modifications. Remove the custom ad blocker rule(s) and the page will load as expected.